ZETA folding clutch and brake levers Options
Click on the Make of your bike below to get more information:
Honda
-
Kawasaki
-
Ktm
-
Suzuki
-
Yamaha
-
Click on the Photo Below for Full Size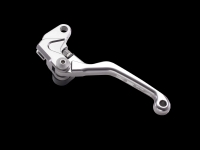 ZETA folding clutch and brake levers:
PIVOT LEVER SPECIFICATIONS: CNC Machined high quality aluminum folding levers available for many bikes. Lever to fold outward to prevent breakage in the event of a crash. Automatic lever position restoration provides quick recovery from the crash. Ultra precision machine cut for super light weight construction, high precision and quality. Made of durable aluminum for extreme strength. Titanium color anodized finish. Sample photo only, your actual lever may look different.
Click below to find your bike!
Click on the Make of your bike below to get more information:
Honda - Kawasaki - Ktm - Suzuki - Yamaha -