1 1/8 Bar Mounts Options
Click on the Make of your bike below to get more information:
Honda
-
Kawasaki
-
Ktm
-
Yamaha
-
Click on the Photo Below for Full Size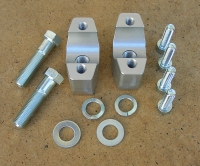 1 1/8 Bar Mounts:
Due to the high demand for Oversize bars and the low availability of after market parts to mount them using our SCOTTS damper, we decided to make our own perches. Made from billet 6061 aluminum, we offer an assortment of offsets to match the bar position you like. This concept also allows the purchaser (you) to avoid buying parts that you will not need. The standard mounting kit includes: 2 lower perches and the correct hardware to mate to your bike.
Click below to find your bike!
Click on the Make of your bike below to get more information:
Honda - Kawasaki - Ktm - Yamaha -