Top Mount / Stabilizer Kit Complete Options
Click on the Make of your bike below to get more information:
ATK
-
Beta
-
Cannondale
-
CCM
-
Gas/Gas
-
Honda
-
Husaberg
-
Husqvarna
-
Kawasaki
-
Ktm
-
Suzuki
-
VOR
-
Yamaha
-
Click on the Photo Below for Full Size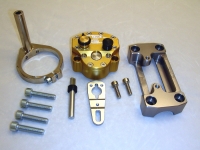 Top Mount / Stabilizer Kit Complete:
The bolt-on kit literally bolts on and usually mounts around the head tube. Installation time varies from bike to bike but normally takes about 45 minutes depending on your skills and the model of motorcycle. This kit is specific to each bike with consideration for which combination of bars and triple clamps are being used. We have meticulously designed these kits to make your installation time fast and easy. This kit typically will include a Stabilizer, link arm, handlebar clamp, frame backet, step by step pictured instructions, owners manual and applicable hardware. Some models may require replacement handlebars. We can assist you in that choice also. If you have any questions regarding any installation guidelines or special applications, please give us a call. The Photo attached here may be a generic photo to show you the basic components in the kit, but may not be showing the exact kit for your specific bike.
Click below to find your bike!
Click on the Make of your bike below to get more information:
ATK - Beta - Cannondale - CCM - Gas/Gas - Honda - Husaberg - Husqvarna - Kawasaki - Ktm - Suzuki - VOR - Yamaha -