Chain Guide - TM Designs Options
Click on the Make of your bike below to get more information:
Honda
-
Husaberg
-
Husqvarna
-
Kawasaki
-
Ktm
-
Suzuki
-
Yamaha
-
Click on the Photo Below for Full Size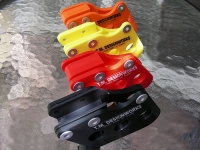 Chain Guide - TM Designs:
The toughest rear chain guide on the planet. The only aftermarket product that repeated in 2004 & 05 as the top aftermarket product from Dirt Bike Magazine. This FACTORY EDITION chain guide was issued a final Patent number in 2006 as the inventor and sole designer of the solid body plastic rear chain guide. Our lightweight cosmetic shape incorperates a much thicker Then stock wear pad that doesn't compromise ground clearance. This part uses our custom plastic formula for superman type strength. The TMD guide patented solid body return memory system keeps the chain guide in line even after heavy impacts. The Black color allows us to put a high content of UV and more lubricant which is not available in stock or any rubber/plastic chain guide setup. This guide is the weekend workhorse that top championship riders rely on. Comes with a one year manufacturers warranty.
Click below to find your bike!
Click on the Make of your bike below to get more information:
Honda - Husaberg - Husqvarna - Kawasaki - Ktm - Suzuki - Yamaha -