SUB Mount / Mount Kit Only / when using Options
Click on the Make of your bike below to get more information:
Beta
-
BMW
-
Gas/Gas
-
Honda
-
Husaberg
-
Husqvarna
-
Kawasaki
-
Ktm
-
Suzuki
-
Yamaha
-
Click on the Photo Below for Full Size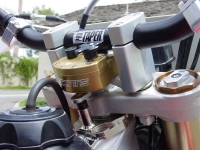 SUB Mount / Mount Kit Only / when using:
"SUB" mount stands for Stabilizer Under Bars, originally designed for raising the bars. These kits are designed for use with Oversize bars. "Bar reducers" are available as an option, to convert the kit to standard diameter bars, should that be desired. This concept allows more room for other equipment such as, Global Positioning Systems(GPS) or Enduro/Rally computers and yet still retain the quick access for adjusting the stabilizer. This is also good for the taller rider who wants his bars a little higher, as it raises the bar location approximately 11-25mm, depending on the model of bike. In some cases, you might consider a lower bend handlebar bend at the same time, unless you are trying to achieve a higher bar height along with your stabilizer installation. We can also help you with other handlebar choices to match your desired setup, as we have a full selection of handlebars to choose from on this website. The SUB mounts are only available on certain models based on the physical limitations of mounting in this area. Each SUB mount comes complete with all necessary parts, hardware and "Step by Step" pictured instructions. If you have any questions, feel free to call or email us. The Photo attached here may be a generic photo to show you the basic components in the kit, but may not be showing the exact kit for your specific bike.
Click below to find your bike!
Click on the Make of your bike below to get more information:
Beta - BMW - Gas/Gas - Honda - Husaberg - Husqvarna - Kawasaki - Ktm - Suzuki - Yamaha -